Diable Soleil - SOLD
A taciturn, introverted youth, Duffaut lived through an unhappy childhood ruled by an incompetent mother, with drawing as his only expressive outlet.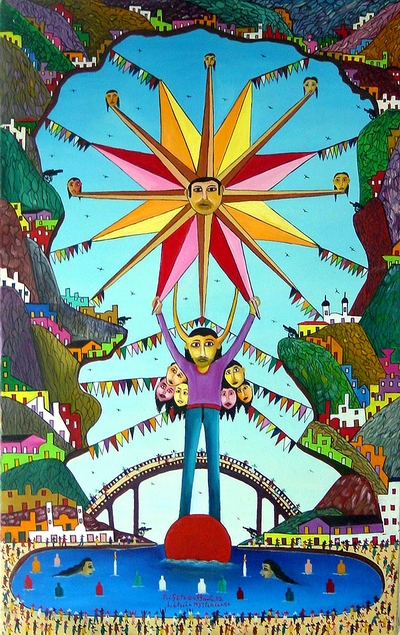 He recounted that the Virgin Mary appeared to him in a dream at La Gonave Island, leading him to produce an ornamental sculpture for the chapel dedicated to her. A poet and mystic, he might be said to be a painter of dreams depicting his hopes and beliefs, as exemplified by his famous painting Virgin on the Mountain Top. Rigaud Benoit and a group of artists went to Jacmel to look for new talent and found Duffaut . During the night he had a dream: the Virgin appeared to him with outstretched hands perched on the summit of a mountain and she told him to paint his city Jacmel. Duffaut joined the Art Center in 1948. In 1951, he painted a mural at the Holy Trinity Cathedral. Duffaut strives to reconstruct a frantic reality: winding vertical streets and delicate and colorful houses constructed at the turn of the century that characterize Jacmel. Not leaving anything to chance, he writes on his painting the names of the buildings: school, customs, police, and hospital. The effect is striking. His innate sense of com
position, genius of colors and pictorial clumsiness make his first works masterpieces of naive art.

Préfète Duffaut
Size: 32x20
Medium: Oil
Support: Canvas
THIS PAINTING IS SOLD