La Rade de Jacmel - SOLD
He is world renowned for his mountainous landscapes with serpentine roads and his crowded street scenes.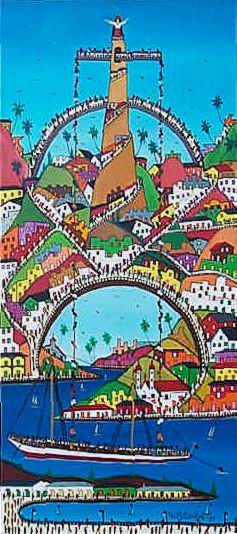 An essentially naive painter, Duffaut started out doing highly precise paintings of his hometown. He then shifted toward a style at times sophisticated, at times fantastic, depending on the painting, allowing his unbridled imagination to tinker with the laws of gravity. Duffaut has evolved over the years ; his imagination is fed by new realities ; his technique is confirmed : symmetry and linear and color perspective push him towards new heights. In his satellite cities, cities pushing to hell or climbing to heaven, Science fiction or simply the mocking smile of a shrewd countryman? Duffaut knows that luck is on his side. Préfète Duffaut in Creole means born prematurely and on top of that he was born coiffé, with the placenta on his head, and in Haiti that means one of the gods´ elect.

Préfète Duffault
Size: 36x16
Medium: Oil
Support: Canvas
THIS PAINTING IS SOLD